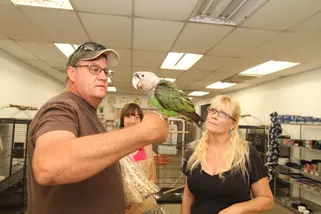 The store offers a wide variety of services and products including:
Boarding
Bring your bird to stay for a day, a week or how ever long you may need! -no appointment required. When you bring your bird in for boarding rest assured we will take great care of your pet bird. Each bird is given its own cage and the boarding fee includes the cost of food. Feel free to bring a few of your bird's favorite toys and treats.
A BirdSmart boarding slip will be filled out when dropping off your bird to ensure we have all the correct contact information as well as any special instructions regarding your bird.
Boarding Fees Per Day(Cost of Food included)
Small Birds - (Finches, Parrotlet, Cockatiel) $10.00
Medium Birds - (Conures to Mini Macaws) $12.00
Large Birds - (African Greys, Cockatoos, Macaws) $15.00 - Softbills - (Lories, etc) $17.00
Birds requiring medication (with non-infectious problems only) $26.00
Grooming
We provide standard grooming services which include the following:
Flight feathers clipped, toe nails, trimmed & filed - any sized bird $10.00
Beak trimmed & filled $10.00
Beak trimmed, flight feathers clipped, nails trimmed & filed $20.00

DNA Sex Testing

If you would like to know the sex of your bird, we offer DNA testing for $35 which includes certificate.
Seed
There is no one-type-fits-all when it comes to your bird's nutrition. Feeding your bird the right parrot diet is absolutely essential to his health (and lifespan!) At Birdsmart our seed is mixed in house, is grown pesticide free and is of a premium quality that all birds love!
Products

Toys
Cages
Seed
Treats
Pellet diets
Medicine
Supplements
Nesting Supplies
Wild bird supplies
We also carry:
Roudybush
Harrisons
Zupreem
Kaytee
Lafebers
Blessings
Mazuri
Kings Cages
Zilla
Hagen
Vision
Vetericyn
Jungle toys
Poop Off
Natures Miracle
Healthy Habitat
Avian Specialties
Living World
J.W.
Preview Hendrix
Manu
and more!